LAUNCH OF THE NATIONAL IDENTIFICATION SYSTEM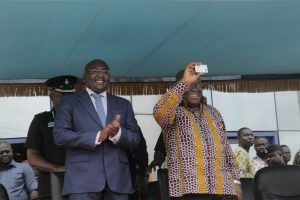 Identity Management Systems (IMS- a subsidiary of Margins Group) in collaboration with the National Identification Authority (NIA) have successfully launched the new "Ghana Card". The President of our great nation Nana Addo Dankwa Akufo-Addo was present at this momentous occasion, as the recipient of the first Smart National Identity Card. IMS has designed a custom solution that fits Ghana's economic and social needs and will enable the Government to improve services to its citizens and help ensure secure access to rights and services. The use of instant issuance technology will result in shorter wait times for the new ID cards and ensure that citizens receive their card immediately. IMS, NIA and all subcontractors on this project have worked tirelessly to bring this card to the Ghanaian people and we are beyond proud that this day has come to pass. Congratulations to the Ghanaian people, and welcome to the new technological era!
Address
The Octagon 6th Floor,
Unit B607 Accra.
info@marginsgroup.com
Office Hours
Monday-Friday: 8:00-17:00
Saturday: closed
Sunday: closed