Gov't to set up presidential advisory council on science, technology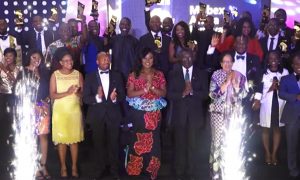 Government is to establish a presidential advisory council on science and technology to support innovation in the country, Minister of Environment Science Technology and Innovation has said.
Prof. Kwabena Frimpong Boateng said the Council will take the form of an advisory non-departmental public body of the government and will be responsible for furnishing the President, on regular basis, measures to improve the sector's contribution to the economy.
"You need to have advocacy at the highest level and the President would want to be informed by a distinguished group of people at home and abroad by the role of science and technology in national development so this council will be formed pretty soon and it's the President's desire that it is done," he said.
Prof Frimpong Boateng disclosed this in his keynote address at the maiden Mobex Innovation Awards ceremony which saw West Blue Consulting emerge Overall Best Innovation of the year.
Speaking to JoyBusiness, the Chief Executive of Coasters Company Ltd., organizers of the awards, George Spencer Quaye, says there is the need to celebrate the brains behind innovation in the country.
He said, "Unfortunately, people don't see that it is innovation that is actually driving the digital agenda so we decided to then institute this award scheme to celebrate our innovators, those using technology to give us solutions, solving socio-economic challenges; they are not those people importing solution."
The Mobex Innovation Awards saw West Blue Consulting emerge overall best innovation of the year. Moses Baiden and Chief Executive of West Blue, Valentina Mintah were both honoured male and female innovation pacesetters of the year respectively.
Some other winners were, MTN Ghana as the 4G service provider of the year and mobile network provider of the year; whereas, Ecobank emerged Fintech innovation and innovation in banking solutions.
Address
The Octagon 6th Floor,
Unit B607 Accra.
info@marginsgroup.com
Office Hours
Monday-Friday: 8:00-17:00
Saturday: closed
Sunday: closed