Ghana's Great Expectations – Interview with the Economist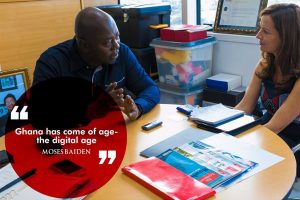 Today, Margins Group CEO Moses Baiden sat down with "The Economist" to discuss Ghana's transition into the new digital age. Moses Baiden said "Ghana has come of age, the digital age" – it is an exciting time to be a Ghanaian.
Address
The Octagon 6th Floor,
Unit B607 Accra.
info@marginsgroup.com
Office Hours
Monday-Friday: 8:00-17:00
Saturday: closed
Sunday: closed